Safety Knowledge Sharing
1. Injury reported – Contusion of L. Hand from Struck-by Wire Reel Spoke. Wire Reel cart was job made to hold wire for install, the connection to secure the wire reel was not inspected. As the wire reel was being pushed, the wire reel spoke upper level on the wire cart became entangled in a temporary stringer and pulled wire reel spoke off of cart striking L. hand. The wire reel connector was loose and dislodged contributing to injury.
Inspect your work area and tools before using.
Inspect connections to confirm they are tight and not loose.
Inspect path of travel before pushing or pulling carts.
2. Temporary energized wire install (Romex, round cord or stringers) – Should you have any questions before you install please speak with your superintendent.
3. Walking/Working Surfaces
Inspect your work area before you work and make sure area is debris free so you do not slip or trip.
Pick up all materials.
Look where you are walking to avoid holes and other debris to step on contributing to slip and trip.
4. Pipe Stub Ups on Walking/Working Surfaces – Eliminate them – No Excuses
Pipe Stub Ups are a tremendous Safety Hazard and to keep from tripping ensure they are extended to an elevation of 6 feet or higher.
Pipe Stub Ups are required to be impale protected.
Inspections will focus on pipe stub up protection.
Usually installed in high traffic areas – What is wrong with this install?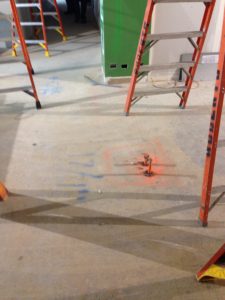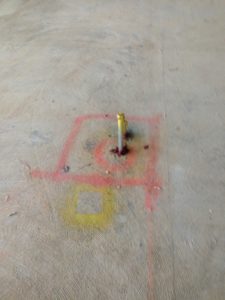 5. Inspections of your job area and Tools for work
Be an inspector and always inspect your tools and work area
Take action to with defective tools
Always have a clean work area to install